East Meats West Food Truck
Asian-American Influenced Dishes
Based in Oakdale, CA East Meats West Food Truck is serving up some delicious food from different parts of the World. With a menu that combines Asian-American favorites, you'll find popular items like the Burgundy Pepper Tri-Tip Sandwich, Yakitori Chicken Skewers, and the Pork Belly Bao Meal. We aren't sure about the age cut-off, but the Kid's menu is looking pretty good too, offering the Deep Fried PB&J Bao Sandwich or just a good ole Corndog. Yum, now we want corndogs.
Order Online for Pickup
NEW - Order Online for Pick-up at East Meats West Food Truck
Walk-up ordering available or order online ahead of time and pickup up your order when it is ready.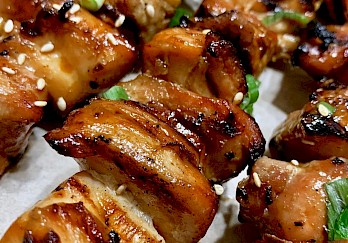 Schedule
View Schedule / Location Online
EMW is a family-owned restaurant that recreates some of the best street food cuisines from East to West.